The Crystal Cathedral

Regional Area:
Orange County
Address:
12141 Lewis Street
Garden Grove, Calif. 92840
Phone:
(714) 971-4240
Fax:
(714) 971-4318
Contact:
Mary Louise Frazier
Facility Type:
Reformed Church of America

Description:
Nestled in the center of a twenty-one acre, beautifully landscaped campus, is the twelve-story Crystal Cathedral, one of Southern California's most spectacular wedding settings. Designed by the world-renowned architect Philip Johnson, the Cathedral resembles a four-pointed, crystal star, and has been hailed as one of the great architectural wonders of the world. Twelve thousand shimmering panes of glass are enclosed within a white web-like steel truss frame forming translucent walls and ceilings that allow the beauty of nature to encompass every gathering and celebration held within.
Designed by Richard Neutra, the Arboretum has received international recognition for its architectural beauty. With its fountains, lights, mirrors, and gardens, this extraordinary sanctuary can provide a cherished setting for both small, intimate weddings, and large regal ones.
In the cool of a summer evening, or the warmth of a winter's day, the beautiful Walk of Faith Garden, with its fountains and serene waters, is a lovely place for a man and woman to pledge their vows to each other. Nearby, Christ, The Good Shepherd, carved from bronze, extends His hands in an expression of love.
High above Orange County, with a view of Saddleback Mountain to the east, and Catalina Island to the south, the Chapel-in-the-Sky can be a "little bit of heaven" for a bride and groom making their vows of love and trust.
The Crystal Cathedral Campus is freeway-close to all of Southern California, situated at the hub of North Orange County where the Santa Ana (5), Garden Grove (22) and Orange Freeways (57) meet.

| | |
| --- | --- |
| Ceremony Capacity: | 2 to 2,800 people, depending on location |
| Outside Ceremonies: | 100 people |
| Availability: | 10:00 a.m. - 6:00 p.m., Saturdays only |
| Facility Contribution: | Crystal Cathedral $1,950 |
| | Arboretum $1,675 |
| | Walk of Faith Garden $1,375 |
| | Courtyard Garden $1,475 |
| | Chapel-in-the-Sky $1,335 |
| | * Special arrangements may be made for a wedding with ten or fewer guests in the Chapel-in-the-Sky. |

Services/Amenities Available:
Clergy Provided:
Yes
Music Allowed:
Yes
Own Clergy Permitted:
Yes, may co-officiate
Rehearsal:
Yes
Pre-marriage Counseling:
Yes
Brides Dressing Area:
Yes
Wedding Coordinator:
Yes
Handicapped Access:
Yes
Parking:
Yes
Alcohol Allowed:
No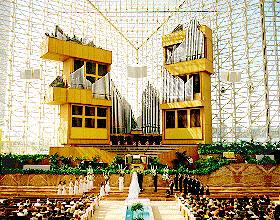 What Makes Us Special:

"The Crystal Cathedral has been rated as one of the top two 'Most Popular Wedding Spots in Orange County,' year after year!" - Orange County Register.

To ensure your celebration exceeds your expectaions, you may want to chose The Crystal Cathedral, for it offers an unequaled choice of outstanding wedding and reception facilities and services, and an experienced Wedding Consultant and staff to help meet your every need. Wedding prices include these items prior to the wedding: Pastoral Guidance, Marriage Counseling, Wedding Consultant, and Wedding Hostess (rehearsal). On your wedding day you receive: two-hour use of the church (1-hr. prior, 30-min. for wedding, 30-min. for photos), plus Minister, organist, Wedding Hostess, Wedding Host, Bride's Room (for dressing), Kneeling Bench, Candelabra and Floral Wicker Baskets.

Because of the diversity of the Crystal Cathedral's world-renowned wedding and reception locations and the service-oriented professional staff we offer, we feel confident that we will be able to provide you with the wedding experience you have always dreamed of.


Click the Icon below to request more information or to send comments.


The Crystal Cathedral
---

Return to Orange County Ceremony Locations

Return to Orange County Index

Return to the Wedding Stars Home Page

Copyright © 1997 - 2005 Wedding Stars Online
Created by The Brookman Company